About one and half month has passed, and we are moving closer to the release of Mys v1.3.5, our next minor version. In the last blog I introduced the multi-alternate form system, and this time we will introduce a minor QoL update that will make admins life much easier organizing/managing your sites.
This new feature allows you to selectively turn on/off some features on your adoptables site, ie. Adoption, Item/Inventory, Private Message, Registration, etc. This can be done via admin control panel, a new Subsystem Settings link that will lead you to this page: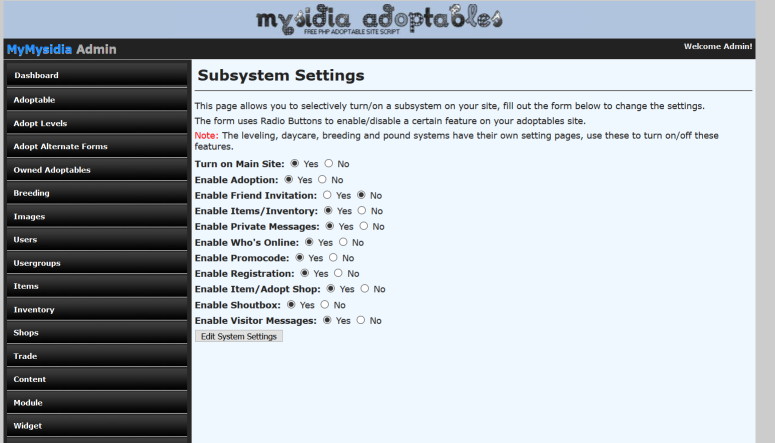 This page should be self-explanatory, just use the radio buttons to turn on/off a feature from Mysidia Adoptables. You can also turn off the entire website if you wish, it will just show a generic error message to every user visiting your site. This can be useful when you need to run some maintenance for your site.
The below screenshot shows what happens when the adoption system is turned off when a user visits the adoption center: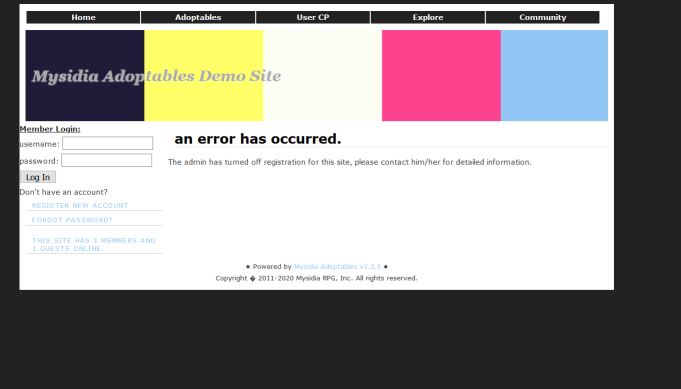 Hope you enjoy this new feature everyone. It is not a major update like multi-alternate form, but I believe it will help admins a lot as they may need to turn on/off the site or a feature from time to time for some reasons. We will be likely to introduce another minor feature before the release of Mys v1.3.5 which should come before Halloween, stay tuned.