Hello! I just realised that users are able to pound their favourite pet and it doesn't update the database to remove the favpet if they go through with it. I have the favpet displaying in the sidebar and when a user pounds them it doesn't change. So I looked in the database and the favpet in users_profile stays the same. This means users can still see a link to manage their pounded adopt but when they click it they obviously get an error as they no longer own the pet. This isn't too bad on their profile as the adopt spotlight links to click the pet, but my sidebar links to manage the pet.
How would I go about preventing this? Ideally I would like to make it so that users cannot pound their favourite pet, but I would be okay with allowing them so long as the database resets to 0 for favpet ID once they do pound them. Though it needs to only reset if the pounded adopt is indeed the favpet as well, so users don't find their favpet resetting every time they pound something haha.
Any ideas? I have been looking around but I am still a bit confused by the new file structure and where everything is
Pretty sure this is in the base script too as I haven't touched anything to do with the pound.
Users favpet ID is 84:

Same ID is in the pound:

Favpet on sidebar:

Error: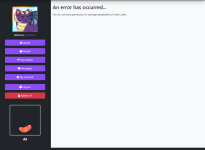 Thank you!!