Joined

Oct 28, 2021
Messages

9
Points

3
Mysidian Dollar
Hello all!
I got Mysidia installed, and running and that's half the battle right there, so I'm pretty proud of myself for getting it off the ground. However I am experiencing some other things that I can't seem to find a workaround for, so I thought it best just to put forward what I'm seeing. I am looking for someone who can help me with small stuff or kinda point me in the right direction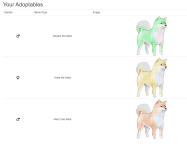 ​
The things I'm running into:
Dates available: I want to run them for limited times (so available for June but not July as an example) but it does not appear that I can SET that. It seems I can set for a specific date (like only on the 4th of July) but Cannot set them to follow specific date ranges is there a mod for this?
Variable "Hatching": I set the EGG of a species and then set the alternate forms for that egg, is there a way to set a release timer? if X egg contains X variant it will take 2 days to hatch? or 5 days to hatch if it is a different one? Looking for alternative methods to CLICK hatching, which seems to be confusing some of my user base that's helping with some of the testing.
Trades: another user and myself initiated trade with the other but we cannot find a way to ACCEPT those trades and finalize that hand-off (not sure what was going on when I tried to look a public trades, it just gave me an http 500 error on the (/trade/publics) page Which I think should be PUBLIC so I dunno. bottom line we can't finalize a trade I'd like to know how.
Adoptions I accidentally set an adaptable so that it's not available for some reason to my user base. I am not seeing where I can EDIT "ADOPTABLE CONDITIONS" after creation? Do I have to delete the pet entirely and then start anew?
thanks
Sebastien the confused DERG from Foxtrot
Last edited: